Project Management
What is Project Management?
Project management is the planning and coordination of numerous stages of a large project to make sure that everything comes together on time.
PDA ensures by correct management that numerous tasks are being completed at one time by many manufacturers, freight forwarders, printers and other suppliers, meanwhile we are completing our design and other tasks. This enables projects to be completed to deadline effectively and competently.
Project Management is not necessarily a task that we often bill you for – it's part of our service to make sure your deadlines are met and to make sure we have a long and reliable business relationship.
Our Project Management services include:
Discussing deadlines for stages and full projects
Working with suppliers to find out their lee-times
Planning of stages and for goods to be ready for delivery to and from suppliers
Coordination of numerous suppliers including freight times
Planning with clients for delivery and delivery times to warehouses and offices (forklifts requirements, appropriate staff etc.)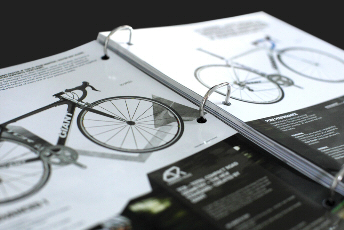 The Giant Bicycles Sourcebook has grown to 250 pages of detailed technical information.
It requires months of graphic design, sourcing and manufacture of custom folders and display boxes from overseas with printed logos, sourcing and manufacture of USB drives containing digital copies of printed material, freight by sea and/or air with customs clearance, page printing, collating, punching and inserting for final presentation at product launch.