Product Sourcing
Often you need a product for a particular application within your business – it could be promotional material such as usb drives or pens with your company logo, folders manufactured cheaper overseas or even fully fledged electronic devices such as cameras or tablet PCs complete with your own branding to sell as your own product. Most things you need, chances are that there is a manufacturer globally who is ready to supply.
Many huge brands do not manufacture all their own products – they often brand things that specialist factories have made and often with a large enough run they will license a design for their country or gain exclusive rights to a product worldwide as their own. You might be surprised at how many well known brand products are made by other manufacturers with a simple license agreement or logo applied and then imported and sold.
You don't want to spend thousands of dollars in R&D if a perfect product exists or can be modified to your requirements.
Our comprehensive knowledge of sourcing and importing means we can find the best product, negotiate cost, calculate freight, duties and taxes and give you a final unit price from factory to your door in a matter of days.
To our credit, we have sourced exciting new products, visited numerous international trade shows, built a great network of suppliers and inspected a large number of factories in person. We have negotiated exclusivity terms for Australia and New Zealand, developed packaging and product photography and prepared presentations for large companies and department stores. We have obtained huge orders based on our presentations and finally imported goods in large quantity for sale. PDA has even co-developed products using a manufacturer's own technology and our product design skills.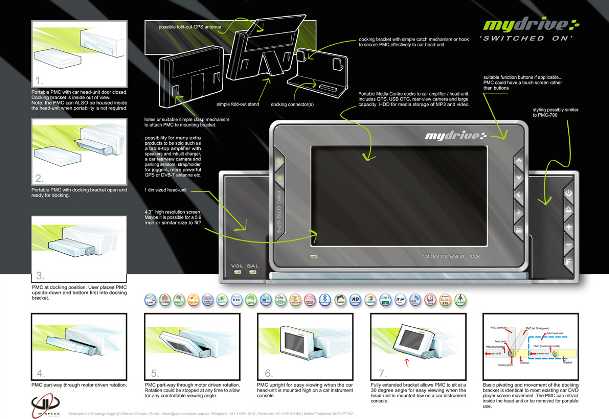 While researching on the viability of import of personal media players to Australia for sale in large department stores such as KMart, this concept was developed during a personal visit to one of the world's highest quality media player and car-stereo factories.